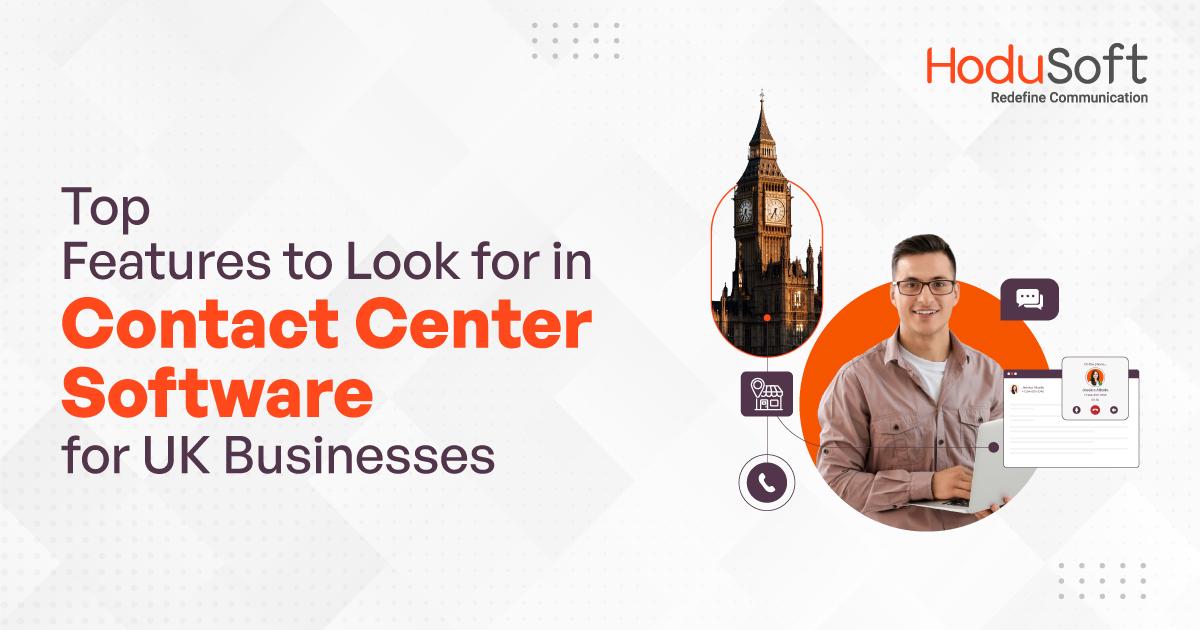 Top Features to Look for in Contact Center Software for UK Businesses
Features are vital parts of every product or software. But to operate well and get the desired results, a product or software doesn't only need to have the right features. They also need to synergize with each other effectively. To quote Apple CEO Tim Cook, "A great product isn't just a collection of features. It's how it all works together."
If you're looking for contact center software in the UK, then you can easily find a wide range of software at a click of a button. But you must invest quality time researching the contact center software features to make sure that you select the right contact center software for your UK business.
This blog post lists 20 top features reliable and sophisticated contact center software must have. While looking for the best contact center software for the UK, make sure that the software has the listed features. Read the blog till the end to make an informed decision.
1. Auto Dialer
This is one of the most important features in outbound contact centers. It automates the dialing process and allows the calling system to redirect the call to the next agent. It provides outbound contact centers a wide range of benefits ranging from higher efficiency, improved productivity, enhanced connection rates, greater lead conversation ratios, and many more.
2. Automatic Call Distribution
In an inbound contact center, call routing and distribution are major challenges. Automatic Call Distribution (ACD) is designed to automatically sort and handle huge call volumes, which enables them to distribute calls evenly among contact center representatives. The feature route customer calls to the best available agent, ensuring customers get the help they need quickly. It also helps customers to connect with the right agents who are highly experienced and skillful, which increases customer satisfaction and decreases wait times.
3. Omnichannel Support
Unlike call centers, contact centers need to leverage multiple channels to connect with customers. That's why omnichannel support is a must for contact centers. As the name suggests, omnichannel contact center software provides a unified customer experience by integrating a wide range of communication channels such as audio calls, video calls, live chats, emails, text messages, and social media. While investing in omnichannel contact center software, you must take into account how easily the software can integrate with other channels.
4. Built-In CRM Integrations
This feature enables customer service representatives to access helpful information on customers such as unresolved complaints, previous interactions, and more relevant information. It allows agents to engage in contextual communication and deliver superior customer service. CRM integrations enable businesses to track customer information and quickly access data when needed.
5. Call Forwarding to Mobile
This feature allows customer service representatives to transfer calls to their colleagues or another device without interrupting the call or keeping customers on hold. With the help of this feature, customer service agents can transfer calls from their desktop systems to their mobile devices. It's highly beneficial at a time when most customers don't like to be kept on waiting or directed to another agent.
6. Multi-Level IVR
This feature is extremely useful at a time when over two-thirds of customers prefer self-service over speaking to a company representative. By using multi-level IVR customers can resolve a wide range of common issues and get basic information. This feature provides self-service options to customers and enables customers to interact with a computer-operated voice system before getting connected to the right agent in the right department. IVR systems allow customers to quickly find answers to common questions and even complete transactions without speaking to an agent. This saves time and resources.
7. WebRTC Phone
WebRTC is short for Real-time Web Communications. As the name suggests, it's based on the web and it enables real-time audio, video, and text communication functions between web browsers and devices. It eliminates the need for complex integration of IT telephony and add-ons. By using this feature, customers can place calls directly from a business's website and agents can answer calls in the browsers.
8. Call Recording
As the name suggests, the feature enables agents and supervisors to record all incoming and outgoing calls, which helps in the evaluation of customer interactions as well as for quality and training purposes. Apart from helping in identifying areas for improvement, the feature enhances customer service and more efficient processes.
9. Real-Time Analytics and Reporting
This feature enables supervisors and managers to monitor a wide range of performance indicators such as call volumes, first-call response, wait times, average hold time, customer satisfaction score, and more. The feature helps in improving customer service, customer support experience and identifies areas for cost savings.
10. Call Blending
With this feature, the same set of customer service representatives can manage both inbound and outbound calls by using just one contact center software system. This feature is beneficial for those contact centers and customer-facing businesses that handle large volumes of incoming calls as well as make considerable outgoing calls in almost equal measures. The call blending feature enhances efficiency and decreases wait times.
11. Call Barging and Whispering
This feature enables managers and supervisors to 'barge in' between live calls and provides customer service agents with real-time feedback as well as provide customers with the right information or solution. As the name suggests, the whispering feature enables supervisors and managers to guide customer service representatives by whispering to them without letting customers know about their presence.
12. Call Parking and Call Queue
The call parking feature enables agents to put a call on hold at one phone system so that any other agent in the call center can pick up the phone using their phone set and continue the call from there. This feature can be activated by pressing a special sequence of preprogrammed buttons. Call queue is one of the most common call center software features that put several calls on hold if agents are busy.
13. Workforce Management
This feature enables contact centers and customer-facing businesses to monitor the performance of contact center representatives and plan schedules as per that. Apart from optimizing productivity and minimizing risk, the feature also helps call centers to allocate financial and human resources strategically.
14. Call Scripting
This feature can enable contact centers to create common scripts that all customer service representatives can use. This feature can also enable agents to glance at the script history and personalize their responses for different customers.
15. Single-Tenant and Multi-Tenant
Single-tenant and multi-tenant feature options provide distinct functionalities to contact center software. The former provides a single instance of software that operates on an infrastructure not shared with other users. The latter uses a shared infrastructure that allows the deployment of a single instance of software to serve multiple users (or tenants). Sophisticated contact center software provides powerful single-tenant and multi-tenant features.
16. Call Monitoring
This feature enables supervisors and managers to monitor live calls and provide feedback in real time. It's extremely beneficial for startups as well as small and medium businesses as it can reduce agents' training and provide consistent support and a high-quality customer service experience. 
17. Customer Satisfaction Analysis
Ensuring customer satisfaction is extremely crucial for contemporary businesses as that provides them a gauge to measure how satisfied their customers are with their products or services as well as customer service and experience. Equipped with advanced customer satisfaction analysis, sophisticated contact center software can easily make businesses aware of what they are doing right when it comes to keeping their customers satisfied and where they need to improve.
18. Call Bridging
This feature enables multiple people in various locations to participate in a live call and communicate with each other. It has a function that's similar to a server that acts like a telephone that can answer several calls simultaneously.
19. Call Scheduling
This feature enables contact centers to plan and schedule customer calls in advance. This reduces wait times and ensures customers get the help they need quickly. Using this feature, customer service representatives and contact center managers, and supervisors can create on-call rotations or route calls to different phones based on the time of the day.
20. Knowledge Base Management
This feature allows agents to quickly find the right answers to customer inquiries. Equipped with the right knowledge base, it enables customer service representatives to provide prompt responses to customers, which enhances customer satisfaction and reduces resolution times.
Taking Everything into Account,
If you take a look at all the iconic products and software in the world, you will find one thing in common. They have excellent features that enable them to work the way they do. If you're looking for contact center software for the UK, then you should make sure that the software comes with all the above-listed features.
A quick search on the internet with highly-targeted search terms such as "best contact center software in the UK," "top contact center software features for UK businesses," or "top contact center software for small businesses in the UK," will help you find some reputable and trustworthy software providers. Ask for a free demo and see how the features work together.